Iowa Pheasant Hunting near Webb, Iowa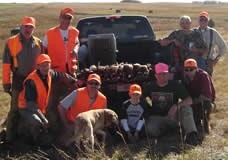 Outdoorsman Hunting Club provides its members and guests with some of the best upland bird hunting in the United States.
Pheasant hunting has been our focus since 1968. Nothing can compare to the excitement of watching a pheasant burst from cover! During our hunts sportsman will have plenty of opportunities to bag the wily ringneck pheasant. For added excitement sporty Bobwhite Quail and Partridge are also stocked on our property.
Our club grounds are professionally maintained to provide the ideal cover for birds and access for hunters. The diverse terrain includes grassland; cover strips, woodland, marshes, and cropland.
We believe that you will agree with our membership that our property is "Iowa's Hunting Paradise"!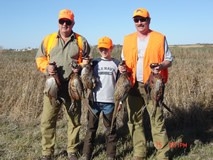 The Hunt
Outdoorsman Hunting Club realizes that each of our members have their own preferences and requirements for each hunt. That is why we tailor each hunt to the individual sportsman.
Several of our members like the extended season and plentiful birds for dog training. Whether you run pointing dogs, flushing dogs, or retrievers, our Club is the perfect atmosphere for your hunting dog. Our members are able to schedule a hunting area and take to the field with no time constraints.
For those who do not have a hunting dog they can use one of our trained Labradors. We also offer fully guided hunts for sportsmen who prefer complete service.
English style and tower shoots are also provided for large hunting parties. Each hunt can be custom made to each Outdoorsman Hunting Club member! Check out the membership page for more information.
Northwest Iowa is known for its world class pheasant hunting. As good as South Dakota pheasant hunting is, hunting in some areas of Northwest Iowa may be even better! You are invited to experience this Iowa pheasant hunting opportunity at the Outdoorsman Hunting Club, conveniently located near Spencer, Storm Lake, and the Okoboji Region - known as the Iowa Great Lakes. The Outdoorsman Hunting Club and the Buettner family have been providing sportsmen with the very best in upland and pheasant hunting since 1968.
The modern life is hectic - you deserve a chance to get a way from it all! There is no better way to relax and revitalize than spending time outdoors with family and friends.
As a Club Member or guest you have private access to the very best in habitat and bountiful game. You will be treated to the pheasant hunt of a life time every time you take to the field! You will have access to over 1,000 acres of prime habitat. The Buettner family has maintained the land specifically for the benefit of wildlife and the enjoyment of Club Members. You will chase the wily ringneck through CRP fields, food plots, wooded areas and wetlands. Watch as experienced English pointers lock on point and expert Labrador Retrievers quarter and flush dozens of pheasants each and every hunt. In between hunts, feel free to relax on the shores of one of many ponds that dot the property.
World Class Hunting and a World Class Nature Escape await you! Drop us a line to schedule your adventure!
Corporate Hunts
Outdoorsman Hunting Club is the perfect place to hold your next corporate outing! Whether you are looking to hold a business meeting, entertain clients, or reward employees the Club offers the perfect location for businesses. Our experienced guides and trained gun dogs will help you provide the hunt of a lifetime. Try out the challenging shooting of our special European style hunts for large groups. Our clubhouse offers a place to conduct business while overlooking the beautiful Little Sioux River Valley. Homemade meals at the clubhouse and on-site lodging at the Ol' Farmhouse are available to members and guests. Drop us a line and we will custom design an entire hunting experience for your company.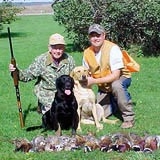 Family Hunts
The Buettner family has shared a long tradition of hunting and the outdoors. The Outdoorsman Hunting Club offers the perfect place for you to start your own family hunting tradition. Birds are plentiful and the scenery second to none. Bring your kids and family out to experience everything the outdoors has to offer!
The Outdoorsman Hunting Club is home to several youth hunts throughout the year. It is our goal to keep the hunting tradition alive and well in the years to come! Let us help your Group plan your next event.
Gun Dog Paradise
The Outdoorsman Hunting Club is not only a perfect destination for you, but also for your four legged friend! Your gun dog will be in heaven flushing or pointing dozens of birds each day! You and your dogs will have the ability to hunt your own private acreage from Sept 1st through March 31st each year. In addition, dog training is available on the grounds year round. Get the young dog started right by getting him on some birds! Your veteran dog will appreciate a pre-season warm up before the regular season and a post – season wrap up after the regular season ends.
The Northwest Iowa Retriever Club and the Okoboji Retriever Club hold licensed events on the property each summer. Outdoorsman Hunting Club also sponsors the Rooster Challenge each fall. On-site kennels and lodging are available.
Request More information
To book a hunt or request more information give us a call 712-838-4892 or send us an email.